For those who haven't noticed before, I try to keep an updated list on my sidebar of several contests and giveaways going on that you can enter. Today I'm going to list some really great larger giveaways, along with a list of the other ones that I know about going on right now.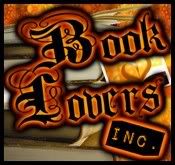 First off, head on over to
Book Lovers Inc.
, a new blog from several established bloggers from all over the world. To celebrate their new blog, they are having a scavenger hunt and giveaway. You have the chance of winning your choice of several books just from leaving a comment. Also, if you participate in the scavenger hunt, you get entered into the grand prize drawing for the Kate Daniels series of books! Contest ends
January 31, 2010
.
Next, please check out
All Things Urban Fantasy
for a 300+ follower giveaway! The winner will receive the Mercedes Thompson series by Patricia Briggs. There are currently four books out now!
If the 400 follower mark is passed before the end of this contest, another winner will be chosen to receive the Alpha and Omega series also by Patricia Briggs! This includes two books and prequel in an anthology.
So, please enter and spread the word!
Contest ends
February 28, 2010
.
Also, at the bottom of my blog, I always have a list of current contests going on at
Bitten By Books
. They have several weekly interviews w/ contests and tons of book reviews. Next week's line-up is spectacular, so check it out!
Monday: Dakota Cassidy
Tuesday: Angie Fox
Wednesday: Larissa Ione
Thursday: Faith Hunter
Friday: Jenna Maclaine
There is also a Daily Book Chat every weekday w/ a chance to win some author swag!
~
Blog With Bite
: Beautiful Creatures Giveaway! Contest ends
January 22, 2010
.
~
Books Books and More Books
: Stella and Audra Price Giveaway! Win a mug, a Weresnakes promo pack, and and E copy of Of Crimson and collars. Contest ends
January 23rd
.
~
Naughty Editions
: Michelle Bardsley Giveaway! win a free book. Contest ends January 24th.
~
Kindle Vixen Contest
: Win Skin Game by Ava Gray! Contest ends
January 25, 2010
.
~
Tattooed Books Giveaway
: Win a custom necklace from Rachel Vincent's Soul Screamer's series. Contest ends
January 28th
.
~
Paranormal Haven
: Raven Hart Giveaway! Check out their interview with Raven and enter to win! Contest ends
January 31th
.
~
Dark Faerie Tales
: Hush, Hush Giveaway! Win a copy of Hush, Hush and a writing journal. Contest ends
February 3rd
.
~
Books at Midnight
: LM Preston Giveaway! Win a copy of Explorer X-Alpha and a poster!Contest ends
February 5, 2010
.
~
A Great Book is the Cheapest Vacation
: Book Giveaway! Kim Harrison's For a Few Demon's More. Contest ends
February 10th
.
~
LA FEMME READERS
: 2010 Book of Choice Giveaway! Contest ends
February 15, 2010
.
Check out
All Thinks Urban Fantasy
for a long list of many more contests!