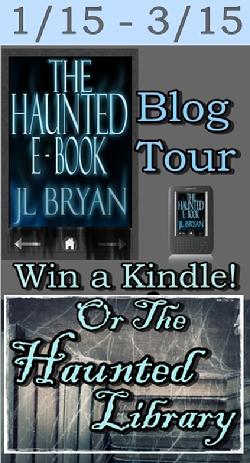 Top Ten Candies for Ghosts
Ghosts may show up at your door, especially around Halloween, and demand candy—if so, what should you give them? Everyone knows ghosts like jelly beans, but---
***SPECIAL EXTRAVAGENT GIVEAWAY***
We interrupt today's regular blog tour stop to announce a special extravagant giveaway. When I put the tour together, I said one grand prize would be The Haunted Library ebook collection, a second would be a new Kindle with WiFi, and if The Haunted E-book reached the Top 100 in the Kindle store, anytime during the tour, I would also give away a Kindle DX.
However, that was months ago, and Amazon's rankings aren't as volatile as they used to be. So I'm lowering the bar: if The Haunted E-book reaches the Top Ten bestsellers in the Kindle horror category (even for a moment) I'll go ahead and make the third blog tour prize available—one commenter from the tour will win a Kindle DX!
And we'll try to make that happen today.
First, I've purchased a Kindle Nation Daily ad for The Haunted E-book, and a sample of the novel will be sent more than 10,000 Kindle Nation Daily subscribers today. That will help!
Second, I'm gifting up to 20 copies of The Haunted E-book via Kindle to people who comment here today. This isn't one of those giveaways where you have 7 days to comment—the gifts will be given out today only, at about 9 PM Eastern time.
To enter, tweet about The Haunted E-book with this link in your tweet: http://amzn.to/dXudkY
You can make up your own tweets, but here are examples you can copy/paste if you like:
Is your Kindle haunted? http://amzn.to/dXudkY #hauntedebook
Or…
19th-century ghosts use 21st century technology http://amzn.to/dXudkY #hauntedebook
After you tweet, just paste your Twitter handle in your comment so we know you participated. Also leave your Amazon-associated email (you can use the form jeff (at) jlbryanbooks dot com if you like) so that I can gift you a copy of the book. I will gift up to 20 copies to people who participate today! If more than 20 participate, I'll use random.org to pick the winners at about 9 PM Eastern tonight.
Commenting on this post within seven days also enters you for The Haunted E-book Tour Grand Prizes, including The Haunted Library, a Kindle Wi-Fi, and quite possibly a Kindle DX!
Thanks to NRS Vamp Chick for hosting today's blog tour stop!
J.L. Bryan studied English literature at the University of Georgia and at Oxford, with a focus on the English Renaissance and the Romantic period. He also studied screenwriting at UCLA. He is the author of five novels and one short-story collection. He enjoys remixing elements of paranormal, supernatural, fantasy, horror and science fiction into new kinds of stories. His new novel is The Haunted E-book. The sequel to his novel Jenny Pox will be available by summer 2011.
Find J.L. Bryan around the web:
Website I Blog I Twitter I Facebook
Thanks again Jeff for stopping here for your The Haunted E-Book Blog Tour & having such an amazing event here at Not-Really-Southern Vamp Chick!
You can read my review of The Haunted E-Book HERE.
Now, enter to win an e-book! ;)