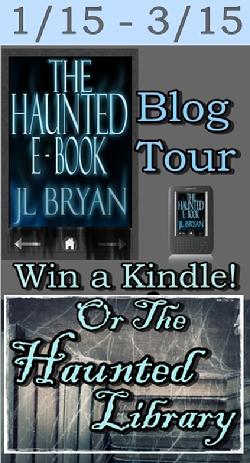 The Haunted E-book Blog Tour has begun!
JL Bryan is having the blog tour to celebrate the release of The Haunted E-book and there are some AMAZING prizes being given away the whole time!
One grand prize winner will receive The Haunted Library. It's a collection of 113 ebooks from multiple authors that you can see here.
Another winner receives an Amazon Kindle with WiFi!
And, if The Haunted E-book reaches the Top 100 bestseller list in the Kindle store at any time during the tour, another winner will receive a Kindle DX!
All this isn't even including all of the copies of The Haunted E-book and Dark Tomorrows being given away at most of the tour stops. So you have tons of chances to win!
To find out all the details & enter to win the grand prizes, check out JL Bryan's post.
Return back to his blog often to check in on the tour! You don't want to miss this!
He'll be here March 1st & 2nd and there might just be something a little special in the works for you. ;)